About
Solutions are high level descriptions of data refining services that can be published in the marketplace even before actual implementation. When a solution is implemented, released and made available by launching a sales campaign it becomes a concrete data refining service that can be purchased in the marketplace and accessed under the terms specified by the campaign. Submitted solution information must include a name, short description and a link to a function interface which specifies the usage instructions. Optionally, solutions can also have a logo and links for further information or demos. Providers are highly recommended to re-use existing function interfaces whenever possible instead of writing their own.
Solution Summary
Solution summary page contains relevant information and useful links for the solution. Here you can also view available campaigns and prices and buy a contract for the solution.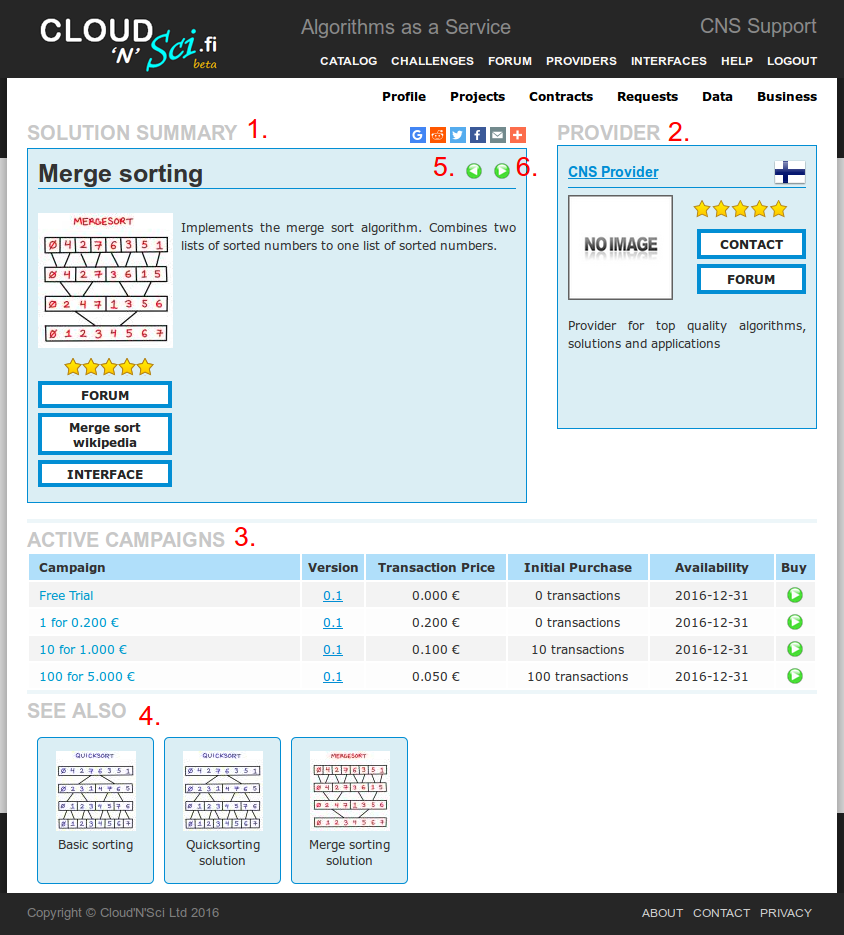 Contains information about the solution and useful links
Information about the solutions provider
Active campaigns for the solution. Here you can see available versions and prices. You can also buy a contract for the solution.
Links to other interesting solutions
Link to previous solution
Link to next solution
My Solutions
My Solutions can be found on your My Business page. Here you can create and release new versions and create campaigns for your solution.

Solution - Click to view/edit solution
Version - Click to view available versions or create a new version
Campaigns - Click to view available campaigns or create a new campaign
Users - Number of contracts
Requests - Number of requests that users have made
Sales - Total sales
Status - Solutions status
New Solution
New Solution can be created in your My Business page.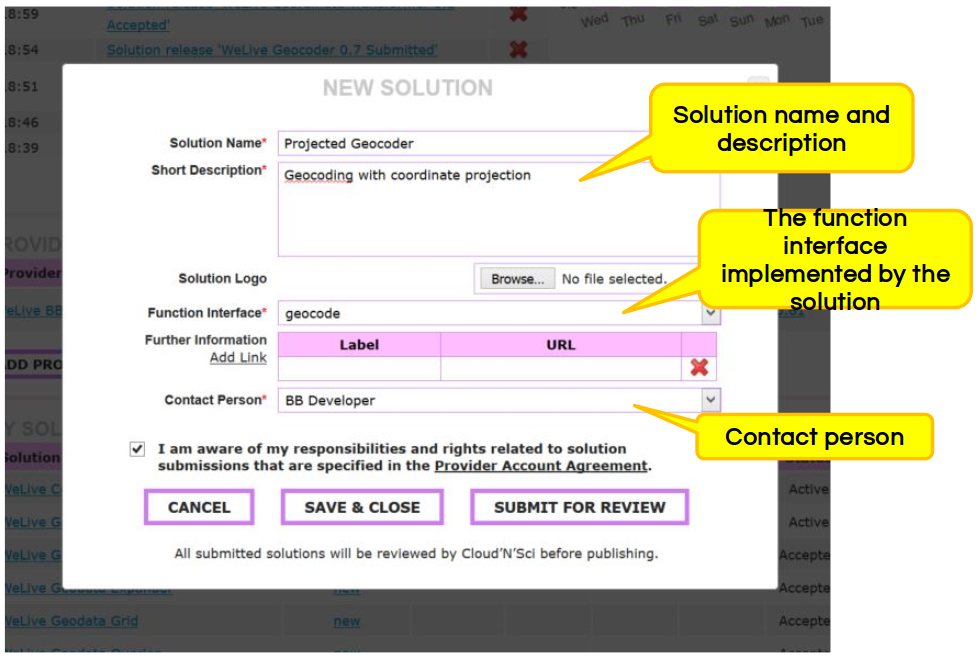 Solution Name - Name for your solution
Short Description - Description for your solution
Solution Logo - Logo for your solution
Function Interface - Function interface that describes your solutions input and output data types
Further Information - Links to additional information etc.
Contact Person - Contact person for this solution
Data Refining Solutions
Data Refining Solutions can be found on implemented algorithms summary page. This is a list of solutions, that implement the selected algorithm.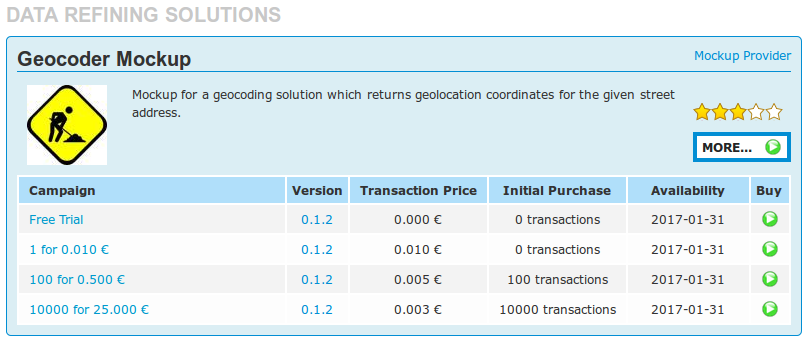 MORE... - Open Solution Summary page
Campaign - Available campaigns for the solution
Version - Solution version which the campaign is created for
Transaction price - Prices for individual requests
Initial purchase - Amount of prepurchased transactions
Availability - Campaign end date
Buy - Buy a contract for the campaign. Opens the solution agreement, which you have to sign to complete the purchase.
Related Use Cases